Authors of Report Recommending EU-wide HPV Vaccination Hide Conflicts of Interest

At least 3 out of 6 authors of the recent

report
by the European Centre for Disease Prevention and Control (ECDC), including the panel chair, appear to have failed to declare potential conflicts of interest.
The purpose of the report is to "lay down the scientific basis for the potential introduction of human papillomavirus (HPV) vaccines in order to help European Union (EU) Member States to make policy choices". Clearly, independence of the panel is an important issue. The report states:
This guidance has been developed by a Scientific Panel of experts set up and coordinated by the Scientific Advice Unit of the European Centre for Disease Prevention and Control (ECDC). One of the main tasks of this unit is to provide independent scientific opinions, expert advice, data, and information. No conflicts of interest were declared by any of the Panel members.
1. Patricia Claeys, Panel Chair
Patricia Claeys declared that she indeed had conflicts of interest in a

Belgian report
dated October 17, 2007, on the same issue:
Conflicts of interest: The following external experts and validators declared that they either received research funds from, or conducted consultancy services for, or received grants and/or travel assistance for attending conferences from companies that might gain or lose financially from the results of this HTA: Lieven Annemans, Patricia Claeys, Patrick Goubau, Pierre Van Damme, Maarten Postma.
We have not received a reply to our e-mail asking Ms. Claeys for a comment on this inconsistency.
2. Paolo Bonanni
Paolo Bonanni is
listed as a supporter
of the
"Coalition Against Cervical Cancer" (CACC)
. The CACC was launched at the 'First Global Summit on Cervical Cancer', an event held in Paris and heavily funded by Sanofi Pasteur MSD, the company which markets Gardasil in Europe on behalf of Merck, Inc. A
newspaper report
on the Summit states:
Celebrities, doctors and journalists were shipped in from across Europe and the United States by PR agencies working for Sanofi. The summit, which resembled a political rally, called for country-wide vaccination programmes.
3. Adam Finn
Adam Finn has served both as a speaker and as a chairperson on industry symposia sponsored by Sanofi Pasteur MSD (which was named Aventis Pasteur MSD until 2004).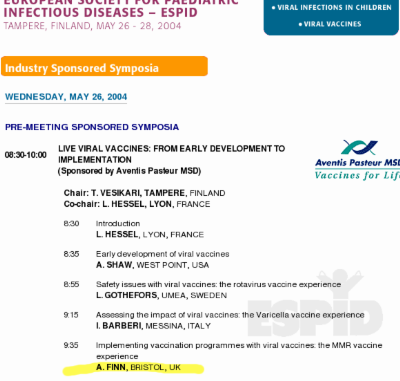 (2004)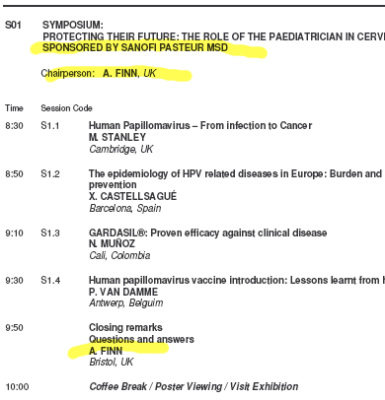 (2007)
Furthermore, Adam Finn has conducted
a number of vaccine trials
which were financed by drug companies.
Conclusion
Medical journals have recently
announced
that they would ban authors from publishing who deliberately fail to disclose any conflicts of interests. We consider full disclosure even more important in an official EU report that is likely to affect the health of millions of people and to have a significant impact on a multi-billion Euro market.
[HPV]